Well, I was browsing through some videos on
Youtube
, and found a live performance by the one guitarist I idolize a lot: The Amazing
Steve Vai
!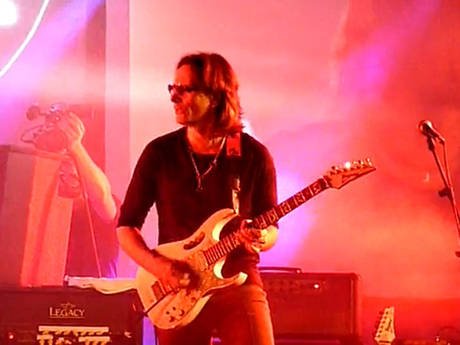 It's actually been really difficult to understand him, not only for me, but for all musicians too, for the various unique sounds he makes, and the new concepts he has in a live performance !
He himself had admitted that he can't repeat what he played at one concert in another, because most of what he does onstage is actually 'made onstage' at that very moment !
I saw the song 'Bad Horsie', where he is wearing a kind of a helmet which glows in the dark when the lights are off, and the stage looks 'scary' till then ! Then, he starts playing the riff, and the lights are on ! The concept was to give it a kind of an "Aliens look", I think, by the way he was dressed !
The end part is really much too awesome, when he stops strumming the
guitar
, and starts creating some weird sounds from it !
Here's the video:
You'll love it !