What Can I Say About This One !! Every Rocker's Kinda Dream!!
This guitar is so much simple and Elegant looking and gives you that kind of a " grunge " sound that I just love in bands like Guns n Roses and Led Zeppelin ( These 2 bands are notable les paul users )
When I had started playing the guitar , I always used to try getting that grunge sound in my quite very cheap "Aria " guitar , using all sorts of Combinations in my also very cheap guitar processor !, but always used to cry to my dad that nothing works ! All of it sucks ! But then I came to Know of this Magnificent Guitar -The Les Paul model, which was the result of a design collaboration between Gibson Guitar Corp. and the late popstar , electronics inventor, and accomplished
jazz
guitarist
Les Paul, who just amazed the world with his so much Innovative mind and designs , which were intended to be for his personal use, but later on became established in the market.
In 1951, a design collaboration between the Gibson Guitar Corporation and Les Paul had took place, and It was agreed that the new Les Paul guitar was to be an expensive, well-made instrument in Gibson's tradition.
Since then, The Magical , too much awesome sound of this guitar has been liked by most of the great guitarists, like Paul McCartney, Slash, Jimmy Page ( Gibson Also Launched A Jimmy Page Signature Model), Joe
Perry, Buckethead, Eric Clapton, Keith Richards and many more !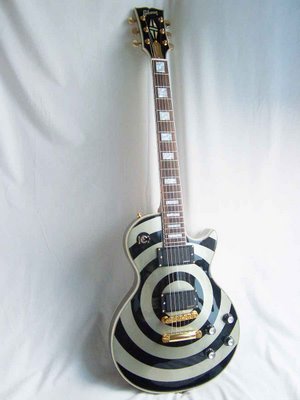 This Guitar has the looks, its sound is amazing - a very rich tone and each note is very crystal clear , but the most disappointing thing is - "All Good Things Come at a Price !" , and so is this ,, Priced at about 2700 U.S.D. ( Rs. 1.5 Lacs approx ) !! , but its definitely worth it !
Definitely , its My Dream Guitar and I am surely going to purchase this one once I get the required money , because its really expensive !!
The Zakk Wylde Signature Model