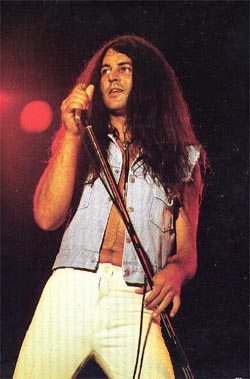 Born on 19th august 1945, this man has changed the rock scenario to a great extent. He introduced a new kind
during the 70's. His great skills to belt his vocals from head voice to falsetto is his strongest and the most notable ability.

He introduced the vocal belting technique and now he is considered as the best hard rock vocalist. Ian possessed a very wide vocal range starting from low E2 to high D6. He was associated with many bands ( like Javelins and Episode six) but havent recieved much fame. After joining Deep Purple this man created a history.

Ian was quite sucessful when he played with black sabbath but was not able to show his best. Various songs of Ian where he has showed his vocal abilities are bloodsucker, space truckin, highway star, speed king, strange kind of woman etc. Child in time, which is considered as the best rock vocal performance song after love reign o'er me byThe Who. In the song Child in time Ian showed his full vocal range and is considered as one of the best achievements of Deep Purple. Ian starts with a soft voice at the beginning and gradually shows his high A5. In this song he showed a wide vocal range.



Every song of Purple has a different spark. Gillan used different techniques in different songs for eg. Space truckin where he used his harsh pitch and even in highway star. But personally i feel Child in time is easier than strange kind Of Woman. The finest vocal ability that Gillan showed in a song is Strange kind of woman. Repeating the high notes with his voice after Blackmore hits it with the guitar, thats really something interesting to watch. Gillan proves in this song that he is the best. Hitting a B5 so easily even on a live act, Thats what Ian did and this is why he is considered as the best hard rock vocalist.



The only vocalist, I feel who can give a tough competition to Ian Gillan is Robert Plant of Led Zeppelin. Though both the vocalists used different techniques and no doubt both had a very wide vocal range but still we can compare them on the basis of their live acts. Robert Plant is the king of G. No one can challenge his voice. He is an exceptional vocalist. But if I have to attend a concert then I would like to attend a concert of Deep Purple rather than Led zeppelin's ( keeping in mind only the vocal part) as Plant always struggled to hit the high notes on live acts(during his active years) but Gillan does not. Gillan's Vocals were stronger than Plant's.