The initiative for the creation of a song is mainly done by the vocalist and the guitarist of a band. What mainly happens is the vocalist writes the lyrics and the guitarist gives the tune. Lets see in the hard rock genre who are the greatest duo's. Well the list is ranked on the basis of their originality, duo relation and the compilation of the songs done during their time. I've sorted out 5 greatest hard rock duo's who actually defined hard rock.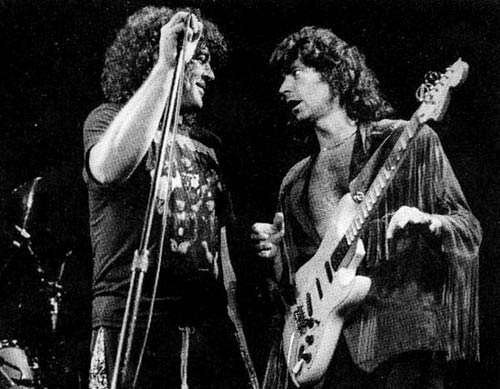 5. Ian Gillan and Ritchie Blackmore, (Deep Purple)-
As a duo they were perfect but only in the music field, Their songs really proved their outstanding efforts but they ain't the greatest duo because Blackmore left the band after few years of working with Gillan. There had been many clashes between Gillan and Blackmore which doesnt make them to get a higher position in this list. Creating only music doesnt mean that you are a great duo but both the members should compromise also and keep their relations strong for the band. In the song Strange Kind Of Woman this duo has proved that musically they had been a perfect duo but when coming to live performances of Purple I could see less participation of Blackmore with Gillan and the whole band. I didn't want to put them in the greatest 5 duo's but belive me guys its for the work that they had done in a short period of time which is completely inevitable.
4.Ozzy Osbourne and Toni Iommi, (Black Sabbath)-
One of my favourite hard rock duo's ever. We cant's consider their genre as hard rock perfectly as some songs came in the heavy metal genre and some in the hard rock. These guys have created some greatest hard rock masterpieces like War Pigs, NIB, Children Of The Grave etc. These two musicians have just dominated the charts with their massive hits. I really admire their works and the power that they had in every song, it just makes be to do a headbanging. Truly they have been one of the most influential hard rock duo's till date and especially for the heavy metal fans out there, this duo is considered to be the gods of heavy metal. They really rocked in their live performances.
3. Jon Bon Jovi and Ritchi Sambora, (Bon Jovi)-
It has been 23 years that the duo has been working for their band. Apart from their professional relation they are good friends and have a real strong bonding that's why they have managed to complete 23 years of their band. Not every song of their band is hard rock but the work that these two guys have done are very touching. Jon has got a huge talent of writing. His songs are very emotional and that charm is much more ignited by Richie's work. Somehow I felt that this duo is out of the track for this list but after thinking about it extensively I thought they should rule. I feel its the only band who can write love lyrics very well. Very few bands I have heard who has got a punch of hard rock with the essence of love. Overall they have sold over 120 million albums.
2. Steven Tyler and Joe Perry, (Aerosmith)-
A very energetic Duo when performing live. I just love to watch them on stage rather than their studio recordings. Their live performances really proves that they are a perfect duo. Apart from their live act their studio recordings are excellent. Some of their greatest works are Dream On ( probably the best work done by them), Crying, Amazing, Jaded, Love In An Elevator etc. I really like the lyrics of Steven and the way Joe adjusts his guitar according to the concept of the song, well that's an interesting thing to learn from this duo.
1. Robert Plant and Jimmy Page, ( led Zeppelin)-
The most versatile artists in the rock history. From hard rock to acoustic skills both were able to create wonders in any genre. Songs like Stairway To Heaven, Since I've Been Loving You, HeartBreaker, Good Times Bad Times, Communication Breakdown, Achllies Last Stand were one of the greatest Hard Rock pieces. Plant's lyrics and page's guitar wonder together made a stairway to success for their band. I dont write much about Zeppelin as the whole world knows about them except some facts. Their skills are unchallengable and unbeatable That's what makes them the Greatest hard rock duo of all time.


Honourable mentions-
Eddie Van Halen and David Lee Roth, (Van Halen)
Paul Stanley and Gene Simmons, ( Kiss)
Brian Johnson and Angus Young, (AC/DC)
Axl Rose and Slash, (guns n' Roses)
Lars Ulrich and James Hetfield, (Metallica)
Rob Halford And Glenn Tipton/KK Downing, (Judas Priest)
Well this was the list of the greatest hard rock duo's but there were many duo's better than these duo's If I remove the word "Hard" from Hard Rock. Some of them are-
John Lennon and Paul McCartney, (The Beatles)
Mick Jagger and Keith Richards, (The Rolling Stones)
Bono and The Edge, (U2)
Freddie Mercury and Brian May, (Queen)
Roger Daltrey and Pete Townshed, ( The Who)
David Gilmour and Roger Waters, (Pink Floyd)